With OnMerge Images™ Microsoft Word Add-in, it's easy to personalize badges, name tags and labels with images. You can include one or more logos, photos, clip art items or other graphics on your project.
Applications include badges, stickers, tags and nametags for a meeting, conference, show, tradeshow, exposition, meetup, presentation, party, reunion, sale, visit or other event.
This example shows each participant's zodiac sign merged on his or her badge. These easy-to-spot symbols are sure to start more than one conversation, but there's no limit to what you can customize using similar steps:
person's photo
home country or state
certifications
company logo
rank...
OnMerge Images makes it as easy—many folks say it's easier—to merge photos as it is to mail-merge text fields. If you have the images, OnMerge Images and Microsoft Word can merge them into your projects.

FREE Download: Try OnMerge Images
The Camtasia Studio video content presented here requires JavaScript to be enabled and the latest version of the Adobe Flash Player. If you are you using a browser with JavaScript disabled please enable it now. Otherwise, please update your version of the free Adobe Flash Player by downloading here.
Suggested Uses
Convention nametag
Conference name tag
Seminar nametag
Meeting nametag
Registration badge
Reunion badge
Name badge
Name label
Trade Show badge
Avery 15395
Avery 25144
Avery 4160
Avery 5095
Avery 5140
Avery 5143
Avery 5146
Avery 5147
Avery 5362
Avery 5384
Avery 5390

Avery 5392
Avery 5395
Avery 5883
Avery 6175
Avery 5895
Avery 74540
Avery 74551
Avery 74459
Avery 74460
Avery 74461
Avery 74520
Avery 74536
Avery 74541
Avery 74552
Avery 74557
Avery 74588
Avery 74651
Avery 74652
Avery 8395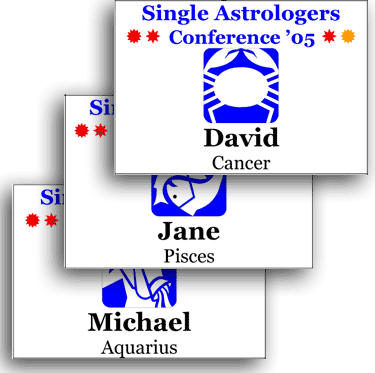 This example demonstrates merging icons, but the possibilities are endless:
person's photo
home country or state
certifications
company logo
you name it...